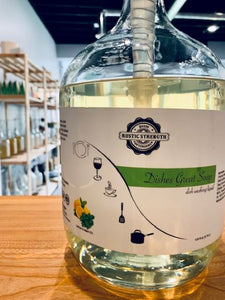 Rustic Strength
Dish Soap
Regular price
$6.20
$0.00
Unit price
per
This dish soap is a high foaming, low skin irritant liquid dishwashing detergent used for glasses, plates, cutlery and cooking utensils that you hand wash in a kitchen sink or bowl. Biodegradable, and gray water safe, you can feel good about this going down the drain! It has many other uses as well; killing weeds, removing ants from a deck, greening up your lawn, removing grease from your hair, bubbles for kids, skunk smell remover, tool degreaser, and many more.
Liquid bulks come in sanitized community jars by default. If you prefer to have a deposit jar, please add the total number you'd like to your order. You'll find deposit jars here.  If you are purchasing a bottle to put your product in, please let us know in 'note to seller' which product you would like in which container.
CAUTION: Eye irritant. Harmful if swallowed.
KEEP OUT OF REACH OF CHILDREN. DO NOT USE IN AUTOMATIC DISHWASHERS.
Safe for septic systems. Contains biodegradable surfactants.
*This item is not available for shipping. Available in-store or local delivery only.
Ingredients: Filtered deionized water, ethoxylated alcohol surfactants, ZINC1760476, aminodimethyloctyl-1-ol, natural sea salt, Sodium Benzoate, Potassium Sorbate, 100% pure essential oil 
[Filtered deionized water – high purity of water
ethoxylated alcohol surfactants - environmentally friendly surfactant that helps grab oil, dirt and grease.
ZINC1760476 - biodegradable surfactant that assists the other surfactants in removing dirt, grease and oil
aminodimethyloctyl-1-ol - biodegradable and renewable resource surfactant that helps break surface tension in the liquids assisting other surfactants in removing dirt, grease and oil.]
Manufacturer: Rustic Strength
---