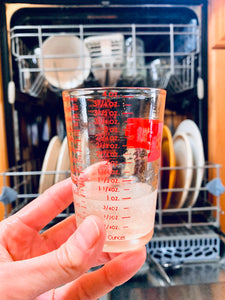 Restore Naturals
Dishwasher Gel Concentrate
Regular price
$3.75
$0.00
Unit price
per
A NATURAL WAY TO CLEAN EFFECTIVELY

Auto dish detergent is difficult to make without phosphates and chlorine, but Restore Naturals has done it. Now you can keep phosphates out of the waterways and chlorine gas out of your kitchen. With this concentrate formula, you can do more for your money.
How are the products made?
Restore products are made from renewable, plant-based solvents from soy, orange, corn, and other biodegradable ingredients, which make our products more sustainable and better for the environment. Our ingredients are grey-water, septic and sewer safe and do not create toxic by-products when they degrade.
What makes them different from other cleaning products?
Unlike many conventional cleaners on grocery store shelves and in commercial cleaning closets, restore products contain no hazardous ingredients as defined by osha and contain no known or suspected carcinogens. Many cleaning products contain petroleum solvents, chlorine, ammonia, phosphates or alcohol, butyl ethers or other ingredients that can give off toxic fumes, can irritate the skin, or are even carcinogenic. When tested against 23 other manufacturers who claimed to have environmentally safer products, restore products rated the highest overall score on performance, safety, and environmental standards. We believe that restore products are some of the safest, most effective, earth-friendly cleaning products in the world.
Follow the directions carefully and do not fill the dispenser in your dishwasher. Remember, less is definitely best, so use only an ounce or less depending on your water.
*This item is not available for shipping. Available in-store or local delivery only.
DIRECTIONS: Use 1 ounce (1/8 cup) per dishwasher dispensing cup. Add more or less to suit personal needs. DO NOT use more than four tablespoons per load.
INGREDIENTS: Water (Aqua), Poly (7) Oxyethylene C11 Alcohol, Citric Acid, Sodium Metasilicate, Sodium Gluconate, Sodium Borate, Sodium Benzoate, Sodium Hydroxide, Subtilisin, Sodium Formate, Alpha Amylase Concentrate, Propylene Glycol, Xanthan Gum, Phenoxyethanol. 
Not tested on animals.
Warnings: Use as intended. Do not ingest. Keep out of reach of children.
This is available for refills in the shop. Listing here is for 16 fl oz in a sanitized community jar. If you'd like a deposit jar, grab one here, or for pump bottles, we've got you covered there, too.
---