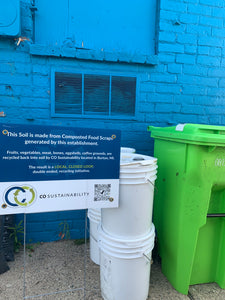 Country Oaks
Compost
Regular price
$5.00
$0.00
Unit price
per
For all our gardeners who feel frustrated with buying compost in plastic bags, we have your solution! We are partnering with Country Oaks to bring you compost in (get this!) a returnable bucket! We're currently offering Grade A Compost (CO Seal of Testing Assurance (STA) compost from the United States Compost Council (USCC) is an excellent amendment for enhancing challenged soils.) in 5 gallon buckets. If you have your own bucket you'd like to drop off and have filled, we're great with that, too!  If you would prefer to have either Premium Soil or High Growth Blend, we can arrange to have them for you, we'll just need a little advance notice. Find more info about the product here.
And as part of this partnership, we also now have a Food Waste Bin out back for our customers to use. So if you've been thinking about composting but have had reservations because you're not sure where your food waste should go (if you live in the city of Ferndale, there are some community options for you) then hesitate no more!
*This item is not available for shipping. Available in-store or local delivery only.
---