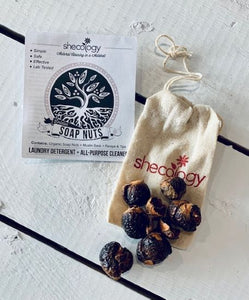 Shecology
Soap Nuts
Regular price
$9.00
$0.00
Unit price
per
Soap nuts rule! Versatile and fun. Dignified and restrained. We're here to tell the universe about Shecology Golden Soap Nuts and their super natural cleaning powers. Not nuts at all, these curious little pods are sun-dried, de-seeded fruit from ancient Indian Soapberry trees grown in the foothills / midhills of the Himalayas in India and Nepal. Of all the varieties of soap nuts, Sapindus Mukorossi is the best for cleaning because it is loaded with the natural surfactant saponin. When dissolved in warm water, saponin transforms into a foam-like substance that removes dirt, grease, and odors in a powerful, safe, and nontoxic way. Use soap nuts and feel good about cleaning again!

Use these little gems in a muslin bag directly in the washing machine for laundry, or make your own DIY cleaners -- check out Shecology's info packet here
Listing is for 12oz of soap nuts in a paper back with compostable liner with muslin bag and instructions included. Or feel free to buy by the oz in the shop!
---