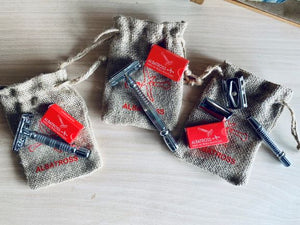 Albatross
Safety Razor
Regular price
$2.50
$0.00
Unit price
per
An estimated 2 billion disposable razors get thrown away each year. Here's a plastic-free way to shave, if shaving is your thing. We've got three different types to fit your needs.
THE 3-PIECE RAZOR IS DURABLE AND ULTRA-PORTABLE. THIS PREMIUM ZERO-WASTE RAZOR PROVIDES THE SMOOTHEST SHAVE EVER! 
This model works great for travelers, as the 3-piece can be disassembled into a compact size. 
THE BUTTERFLY RAZOR IS NOT JUST BEAUTIFUL; IT'S A PREMIUM RAZOR THAT PERFORMS FLAWLESSLY. 
At 3.5" in length, the Butterfly is our most popular model as it handles every shaving situation well. The Butterfly offers the easiest solution for replacing your blade with a quick bottom twist to secure it.  
OUR BUTTERFLY XL RAZOR IS BUILT WITH THE SAME DURABLE COMPONENTS AS OUR REGULAR BUTTERFLY, BUT WE'VE MADE THE HANDLE LONGER! 
At 4.5" in length, the Butterfly XL gives you more grip for your shave. Why a longer handle? Simply put, it's a matter of preference.
Benefits: 
For all genders & shaving needs

Compact & portable design - great for traveling! 

Delivers a close, razor burn-free shave  

High-polished finish prevents corrosion (no more rust!) 

Comes with 10 blades & a hemp storage bag 

Fits all standard double-edge safety razor blades 

Zero plastic waste
How to load a blade in a 3-piece style razor: 
Unscrew the handle from the two blade holding plates.  

Place the blade (be careful it's sharp!) between the blade holding plates and screw the handle back in.  

You're ready to shave!
How to shave: 
Wet hair with warm water.  

Lather shaving cream/soap onto skin.  

Hold the blade at a 30 degree angle and let the weight of the handle do the work.  Do NOT pull the razor across your skin like you would with a plastic disposable razor.  

Use short strokes, about 2 inches long, when you first switch to using a safety razor.

Finish with after shave ointment or lotion.
Need more help? Watch this video https://www.youtube.com/watch?v=7QN4PCVrmWc  to learn how to shave with a safety razor. 
How to take care of your razor: 
Rinse all the soap/ hair/ gunk from your razor after each use.

Shake your razor to dry it. Using a towel to dry will make your blades duller. 

Ensure your razor is stored in a dry spot to increase the life of your blades.

If you notice any corrosion, rub that spot vigorously with a terry cloth towel, or a small piece of emery cloth.

Ensure your razor is clean and dry to make it last longer!
Replacement Blade Pack
Pack of 10 replacement blades
Introducing the world's first zero-waste razor solution! Each Albatross razor comes with 10 free blades and an envelope to collect your used blades in. The used blades can then be sent back or dropped off at a participating collection site. (That's us!) Each return envelope can hold a maximum of 40 blades (4 blade packs). Albatross will Take Back metal to make new (non-razor) products that have direct environmental benefits. We don't just recycle. We upcycle!
Manufacturer: Albatross
---