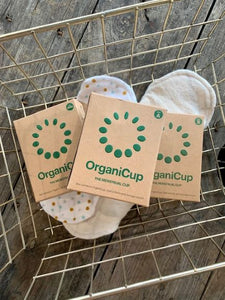 All Matters
OrganiCup
Regular price
$27.99
$0.00
Unit price
per
Ok menstruating humans, here's an easier, healthier, smarter way to manage periods. Month after month. No leaks, no worries. 
OrganiCup holds 3 tampons worth and can be worn for up to 12 hours = Forget about your period during the day. And night. No dryness, no infections. OrganiCup is made of 100% soft medical-grade silicone that doesn't mess with your body. Save money, spare our planet. OrganiCup lasts years, not hours = No constant waste and no monthly purchases. No allergens. OrganiCup is Allergy Certified Standards. OrganiCup meets all required standards and legislation. Certified vegan (no animal testing). OrganiCup is registered with The Vegan Society. Available in 3 sizes.
Fun fact: The average menstruating human spends between $150-$300 per year on pads and tampons, so this zero-waste swap no only saves waste, it also saves you lots of money in the long run.
Size A: For those who haven't given birth vaginally, OrganiCup is the award-winning menstrual cup that replaces pads and tampons. 
Size B: For those who have given birth vaginally.
Size Mini: For teens or those who need a smaller size.
If you still aren't sure on sizing, take the quiz here: https://www.organicup.com/size-guide/ 
---